NEWSLETTER JULY 2022

Hello again

Joyful news from Hosea in the Philippines! A new Hosea church has been planted in an NPA (terrorist) area in Malpalo. We have been spreading the gospel in that area for months, with support from the military because of the continuous fighting there. The first meeting that we held in Malpalo drew in many people and about 800 of them wanted to give their lives to Jesus. As a result of this huge number of conversions a church was needed for the new believers. We don't have a church building yet and instead meetings are held under the shade of trees. Weekly Bible studies take place in one of the family's homes and that family has the responsibility for arranging the meetings.
We finally received permission to arrange our schools' end of term celebrations after a long period of covid restrictions. President Marcos announced that normal schooling could recommence this November. Distance teaching is very challenging for the schools and our pupils are longing to get back together with their friends at school: especially in the slum areas where remote learning is very difficult. Their bamboo huts do not have any electricity supply and, even if they did, power cuts are very frequent. Similarly slum dwellers can only afford basic mobile phone tariffs for messaging and not for good internet connections. Such challenges seemed to go unrecognised by government officials in their ivory towers in Manila.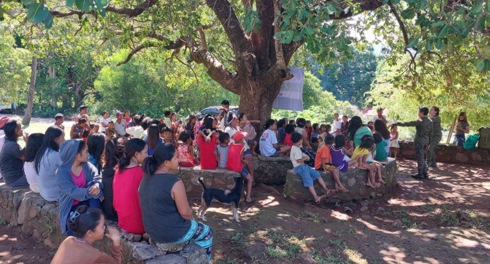 Malpalo Hosea Ministry International church

Our school teachers have done a brilliant job to ensure that their pupils were well prepared for all the official tests that they have to undergo. I could write a book about the imaginative and even hilarious ways that the teachers have coped! The end of term celebrations have been a vivid memory for our pupils, demonstrating powerfully that the covid restrictions are now over and done with. As always our teachers spread the good news of Jesus at every opportunity.

School lessons have been subject to covid limitations such as reducing numbers of students in each class and strict distancing between pupils' desks,rather ironic in the slum areas since children mix freely out of school.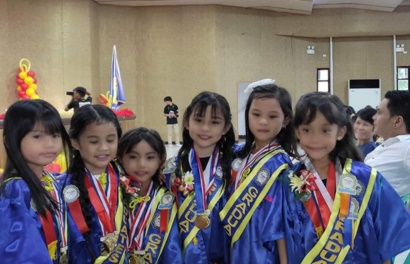 Graduation at the Hosea Ministry Internaional school

Pastor Sonio has continued to teach the Bible to police officers each week, involving three different police forces, and now another police department has  requested him to provide similar classes. President Marcos had continued the initiative of his predecessor Rodrigo Duterte of a Bible programme for both police and military staff as it has brought such good results.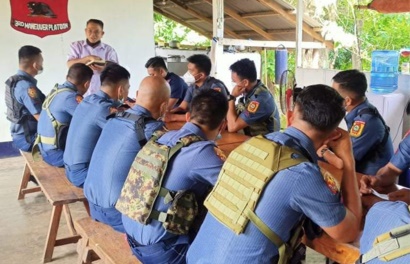 Police Department Bible lessons

Hosea churches are growing fast and our new school building at Capacunga is almost ready.The Turawan tribe comes faithfully down from the mountains to attend the Capacunga church.

Mindoro Island has been free from coronavirus for a year already. I believe that your faithful intercessory prayers have made all this possible: compared to the massive impact of the virus in Manila, this is miraculous!

In their war against terrorism in Mindoro, the military are making good progress. In my previous newsletter I told that soldiers have come to faith, but it would not be prudent to give more details. We believe in a God of miracles: when the light comes then the darkness has to flee.

Please pray for Hosea's work on Vava'u Island in Tonga. There have been many challenges following the volcanic eruption on the islands: coronavirus, measles, swine flu and shortages of food to mention a few. Dorothy has risen to these challenges but life there is very difficult.

Thank you for your love and care for our work.

Even in darkness light dawns for the upright, for those who are gracious and compassionate and righteous. Psalms 112:4


With blessings

Anne