HOSEA NEWSLETTER FEBRUARY 2023

Hello again from the mission field

There have been so many happenings within Hosea's work  in the Philippines that I have not had time to tell you about everything! Outreach has progressed very speedily and several state department's have shown us much  favour.

The dental university asked us whether their recent graduates could get working experience and use Hosea school premises to provide treatments that would be at no charge to patients. Poor people on the island have no access to dental care, so we were delighted to arrange this mission, which took place in February. There was so much demand that a second dental mission was needed. So In the coming month of March we are arranging a combined medical and dental outreach, and this time I am able to be there in person too. We will be focusing upon the tribespeople who otherwise would have no opportunity to get medical treatment. For three years covid restrictions have prevented us from being able to provide such support, so by now a massive demand for help has built up.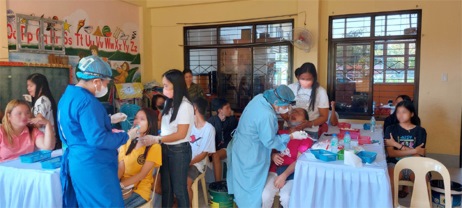 Free dental treatment Hosea
At the same time Hosea has continued to provide food to the poor especially in remote areas, supported by military and police forces. The Hosea church in Malpalao, a terrorist area, continues to grow rapidly. Three hundred soldiers have worked through the area, clearing it of terrorists and NPA (New People's Army) supporters. Evangelizing such a wide area and and delivering food supplies there is a complex task: the military has to check all the forest routes for mines and bombs so that Hosea teams can travel safely.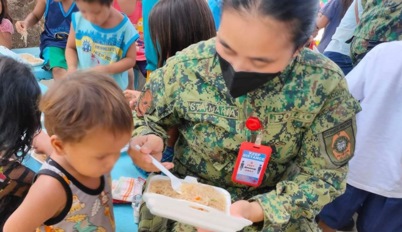 Hosea food program

Let me finally tell you a wonderful tale of God's care and protection -- a story that even reached  the Philippines media news. One of our ex-pupils who is now 15 years of age went out to sea with his father in a small fishing boat. But disaster struck when a storm suddenly arose and their boat was wrecked. When the boat failed to return home, family members were of course very concerned. Time passed by with no news, and after two weeks everyone assumed that both father and son had perished in the storm. The grieving family approached one of our pastors to ask him to pray with them. While he was praying the pastor heard God speaking to him clearly, at a level he had never previously experienced: "They will be found within 24 hours". So he told the family exactly what he heard!

On the next day, fifteen days after the storm had hit, the most amazing news came. A Chinese fishing ship had found both father and son clinging to the boat's wreckage in the sea. Because of their poor condition the rescued pair were not even able to speak at first. Their rescuers brought them to Mindoro island and the harbour of Mamburao where their family were eagerly awaiting them, together of course with members of the media.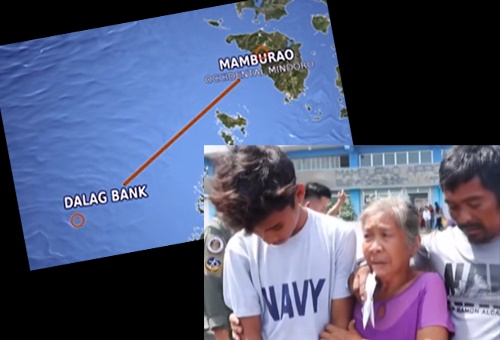 Father and son at the port left image: The location the lost were found

When they were questioned as to how they had managed to stay alive for two weeks in the water, they explained how they had kept afloat by clinging to a portion of their boat's broken hull, to which small shellfish had attached themselves, as commonly happens. They had eaten these to stay alive and drank rainwater. What a miracle that God would keep them alive amidst the dangers of the open sea! And that the Chinese sailors should even notice two half dead men, holding on to wreckage amongst the ocean waves, who had floated more than a hundred nautical miles from Mindoro island. As Psalm 34 says: "The angel of the Lord encamps around those who fear him, and delivers them."

So in spite of news telling of the world getting darker and darker in many places, God's light and miracle-working power is still breaking through. I believe that His glory will become stronger against the darkness.


Blessings

Anne