Hosea Newsletter March 2021

Greetings again with fresh news from the Philippines.

The Hope Tribe

I am pleased to tell you that our Hosea schools on the Hope Mountain for the tribes people there are doing very well. Hosea pastors from different parts of the island travel there regularly to preach the gospel and to lead Sunday meetings. We have schools for other tribespeople in different parts of the island, not just the Hope tribe, but I'm going to tell you more about this tribe because they are the most primitive and isolated tribe that we are ministering to. Their natural vocabulary was very limited so they had to learn the names for common objects as a starting point. A cookery training school has been held for the women from the tribe: every morning school pupils are supplied with a hot cooked breakfast that these women have been taught to prepare. Local materials were used to construct the school and the church buildings.

New school desks have been provided for the pupils too. In addition we have purchased water containers, cooking equipment and sacks of rice. The tribeswomen waited in the valley to receive these provisions and they then carried them up to their settlement on the mountain. You may wonder why it was the women that did the carrying … well it is they that do the hard work in this tribe - quite a shocking thought for Western women!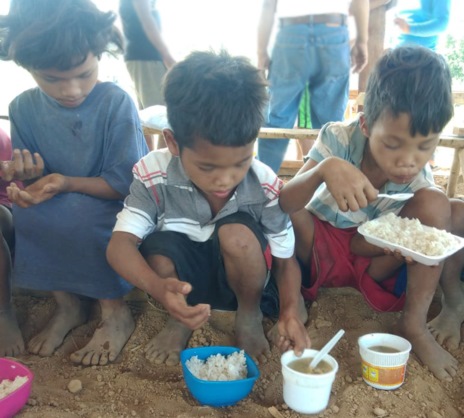 Distributing food

The Hope tribe looks after a small orphan boy who they found in the jungle. His foot was severely injured through contact with some sharp object which pierced through to the bone, and he was in a completely hopeless condition. Because of his young age he was unable to to tell his rescuers how he had injured himself and how long he had been there alone in the jungle. But he swiftly got accustomed to the tribe's lifestyle, even though his past was a mystery. The whole tribe took him in as their own. I am particularly happy that this little boy has accepted Jesus as his saviour, along with several other members of the tribe. It is sad to say that many tribes often reject unwanted children -- if twins are born, one will sometimes be left in the jungle to die because there is not enough food to go round.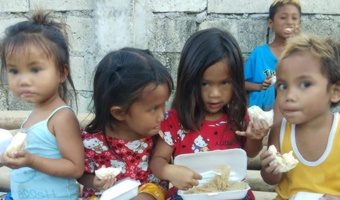 Village of Aroma                     

The children on Hope Mountain had no playthings and when we brought toys for them, it was exciting to hear of the boys' reactions in particular -- they grabbed the toy cars even though they had probably never seen a car in their lives. So much for gender differences!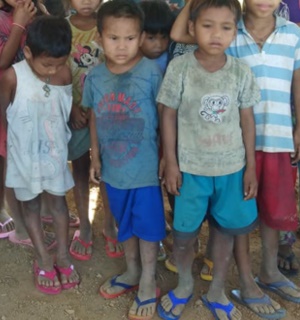 Giving shoes to tribes

To reach the tribes village it's necessary to walk for four hours up the mountain. We were pleased to provide a solar panel for the village to give light in the evenings, thus preventing the people from stumbling around in the dark.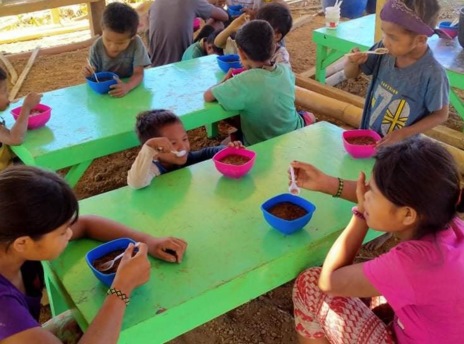 Hope village school

Mamburao

Revival is happening in Mamburao, the capital city of Mindoro island, and also in several other churches around the Island. Three meetings are held each Sunday and in addition the young people have their own meetings. Sunday schools take place as well as separate children's meetings. The bible study groups at Aroma School are full and more people are coming to faith regularly. We have been allowed to keep our schools and churches open even though there are quite strict quarantine regulations operating on the island.
Similarly Hosea team members are allowed to travel on the island because they are distributing food to children and poor people, and of course they can preach the gospel at the same time. This is quite a privilege because there are strict prohibitions on travel even for the local three-wheeler taxis. But local officials understand that we are providing help that they are unable to give.

The island has been free from coronavirus for almost a year but recently the situation has changed and now the whole city of Mamburao is under severe lockdown with people being compelled to stay at home. Even so, our Mamburao church has been allowed to hold meetings and to function normally. Our young  pupils have stayed healthy -- which is a miracle because in slum conditions all the residents live very closely together. Often a large extended family will all be living in the same hut so it is impossible to avoid cross-infections. I really believe that God has provided a wall of protection around Hosea. The Mamburao congregation meets at 5am each morning to pray and of course God's shield of protection is an answer to your prayers too.

A recent typhoon severely damaged the front wall of Mamburao School but thankfully it was repaired before the lockdown was announced. Not a single one of our school teachers or church members has contracted the virus, even though they haven't been vaccinated yet.

So we have managed to achieve a great deal within a short period of time. In summary:

- We have given 500 students from the Jabat tribe teaching materials for one year and we have founded a school and a church for the Hope tribe. No one had preached the gospel to either of these tribes before we reached out to them.

- We have managed to keep our schools and churches operating and at the same time fed thousands of hungry people.

- God has given us revival.

- A church building has been constructed in Talabaan.

- Our Mamburao church has grown tremendously.

- We have managed to rebuild the  front wall of Mamburao School.

- Our hotel would be ready for occupation and to train young people in the hospitality sector but coronavirus has prevented its opening.

- There is revival amongst the young people.

- We have opened new areas for preaching the gospel.

- We have overcome the aftermath of four typhoons and floods which decimated the island and volcanic ash problems.

- Hosea has survived the terrorist war which raged on the island.

Although we have managed to overcome the difficulties of covid-19 restrictions we really do not need the latest outbreak of the virus -  it really does start to be too much.

Thank you for your prayers and for your monetary gifts -- they have really hit the targets for which they were intended. Blessings to you all. May God bless each one of you according to His great mercy.

With blessings from all our Hosea members

Anne