Hosea Newsletter December 2021

Greetings for the Advent Season
We have been very blessed in our ministry on Mindoro island in spite of coronavirus, as this unusual situation has opened up new ministry opportunities for us. We have continued to collaborate with the military and police forces on the island and have been given special permission to move around freely.

Hosea's reputation in both spreading the gospel and practical good works has increased. This combination of spiritual and material service has brought good results. We feel that God gave us this key in the early days of our ministry and it continues to be very fruitful.

We have received answers to our prayers about better internet connections: an internet company based in Manial recently expanded its operations to Mindoro island and rented a room in our hotel. Covid restrictions have meant that our hotel has not been able to open to individual guests, but the company took out a 10-year lease on a room to house their equipment. Part of our agreement with them included the provision of internet connections for Hosea itself. Previously we have suffered from a very poor network -- itt only worked in one corner of the room allocated for me in the hotel. Our staff would often joke that the only way of getting a connection would be ro climb the highest tree in the courtyard!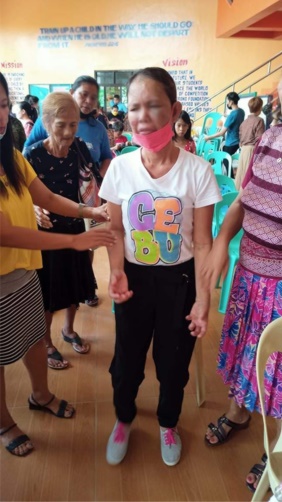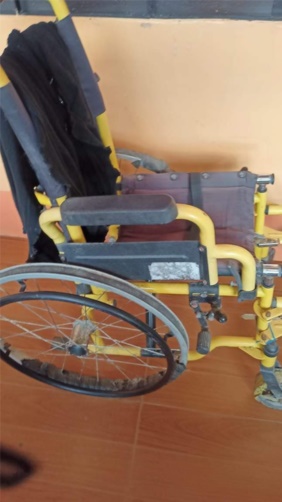 Lady walking                                               The empty wheelchair

In our previous newsletter I mentioned that revival has continued: both Cabacunga and Mamburao churches are full. God has also done remarkable healing miracles, with the latest being the healing of a paralysed woman. She had previously been unable to do anything but lie down. Her neighbour who was providing her with food had the idea to bring her to Mamburao church. The sick lady was not a believer but her friend carried her in a wheelchair to the front of the church for prayer, and Pastor Sonio led the whole church to pray for her healing. Suddenly she got out of her wheelchair and started walking around: with tears in her eyes she gave her life to Christ! The whole congregation wept for joy with her. Such miracles really strengthen our faith that God indeed is the same yesterday, today and forever. The congregation also prayed for a small child who had a tumour in their eye and in front of them all the tumour vanished.

The police department used our school for the graduation ceremony for their new recruits. Many police officers have been involved in our feeding programme for the poor in the area. The graduation ceremony was filmed with a live video link to Manila and mention was made of the local police force's collaboration with Hosea's outreach and bible studies for officers.

In the Cabacunga church a Thanksgiving celebration was held with the teachers preparing meals for everyone who attended. Many local dignitaries also took part in the celebration. Tribespeople from Turawin were there too having hiked down from their mountain homeland.

A similar Thanksgiving was held in the Mamburao Church, attended by the mayor and other local officials, who made a point of praising Hosea as the foremost organization providing disaster support to the people of the island. This is very significant in a country where there are minimal social services.

By God's grace both our pupils and congregation members have remained healthy through the pandemic, whilst the virus has raged across the whole Philippines archipelago. Restrictions are now beginning to be lifted somewhat. Our ministry among the tribes continues to prosper and we have reached out to new areas. As we have been accompanied by armed guards, we have been able to travel to areas where terrorists are still operating -- an impossible venture without such protection.

Your prayers have been really key in enabling our ministry to move forward and bear fruit. Obstacles and challenges have been transformed into victories. I am convinced that the blessings that you have given to us will result in God's blessings to you all. "Those who hope in the Lord will renew their strength. Isaiah 40:31a.
With Christmas blessings

Anne